Congratulations from GEZE: Nick Pfeiffer honoured at the "Jugend forscht" (Youth research) state competition
During the Baden-Württemberg state competition "Jugend forscht – Schüler experimentieren" in Balingen on 16/17 May 2019, all of the regional winners came together to present their research projects honoured in the regional competitions. One of the winners was Nick Pfeiffer whose research project "The intelligent window", supported by GEZE, won the regional competition "Schüler experimentieren - Jugend forscht" on 16 February 2019 and was also awarded the "plusMINT special award for interdisciplinary projects".
Interdisciplinary projects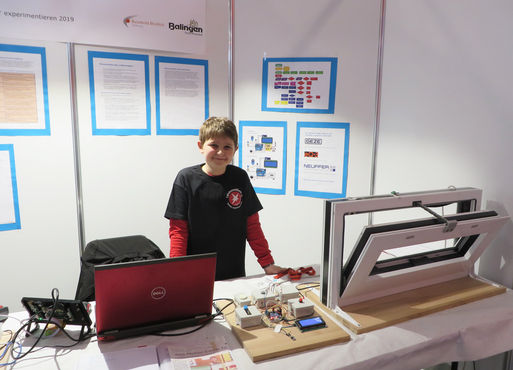 © Bernd Pfeiffer / GEZE GmbH
We would like to congratulate Nick on his "Special second place prize for interdisciplinary projects" award in the "Jugend forscht" state competition.
As another great addition, Nick was able to further develop his project in time for the state competition. In addition to the acoustic and visual alarm signals and automatic window opening feature using the GEZE Slimdrive window drive, Nick made his window even smarter. Now, the window also sends an alarm notification by e-mail if the carbon monoxide level gets too high.
We think it's quite a clever solution!
Learn more about "The intelligent window" by Nick Pfeiffer here
I would like to thank GEZE for their support, which made my project in this form possible in the first place.
Nick Pfeiffer
Press information
For editorial queries:
Mrs. Gabi Bauer
Phone: +49 - 7152-203-222
E-Mail: presse@geze.com