Service & original parts
Comprehensive service solutions from GEZE
Consistently reliable and efficient customer service is one of our key goals. That's why GEZE offers you individual and customised services. We advise you on your products and services across their entire life cycle. We find the right solution for by personal consultation.
Service contracts
Tailor made solution approaches for every type of building
GEZE Polska offers a wide range of services including periodic maintenance inspections, ongoing repairs, modernizations and replacement of devices with new ones. The service packages offered are tailored to individual customer expectations and contain from 1 to 4 maintenance inspections per year. GEZE Polska provides maintenance services for the following product groups:
Automatic sliding, swing and folding doors
Carousel doors
Door closers
SHEV gravitational smoke exhaust systems - drives for windows and smoke exhaust control panels
Drives for windows used for domestic ventilation
Electromechanical and electromotive locks
The scope of services offered by GEZE Polska
Periodic inspection and maintenance
Ongoing repairs
Modernization of existing systems
Technical assessment of the technical condition
Replacing the device with new ones
Technical consultations
The devices supported by GEZE Polska are part of the evacuation or fire safety systems of buildings. Regular maintenance and control inspections carried out by our trained personnel guarantee that the devices are in proper technical condition and that the utility, evacuation and fire functions are maintained.
Benefits of signing a service contract:
Access to a dedicated hotline service.
Priority acceptance of failure reports
Guaranteed response time
Access to original spare parts
Competitive service rates and spare parts discount
Keeping record of full documentation of event history and documentation confirming the performance of periodic control inspections and maintenance
Access to current knowledge on the security of supported devices.
Please contact us
Stock Management
Your systems at a glance
Technology-aided documentation
With our technology-aided and seamless documentation of maintenance results, we help you to plan your annual investment and operating costs. Our data directs you to the most economic time for modernisation.
Maintenance & repair
Technology-based service solutions for new utilisation options
GEZE supports you in networking, managing and maintaining your building management systems - with web and technology-based services. We focus on the central controls of your systems and on ensuring short response times in the event of system failure.
Excellent maintenance service
The technology and web-based service tool GEZE QuickCare enables automatic fault reporting and remote access to the drive technology. This means short response times when it counts. At the same time, fewer site visits to deal with faults are needed thanks to the remote access function. A double benefit to the customer as QuickCare saves both time and money.
The advantages of GEZE QuickCare at a glance:
Maintenance: GEZE Service maintains systems annually based on the check list included in the flyer.
Safety check: GEZE Service performs an annual check, in accordance with the legal requirements, of the operational safety of all security and control systems that form part of the door system (twice a year for escape route doors).
Remote maintenance: Data can be monitored across different buildings thanks to ongoing notifications of the system status via the GPRS network.
Qualified troubleshooting: In the event of a system fault, GEZE Service technicians receive an exact description of the error.
Remote maintenance/system reset: In the event of electrical faults, GEZE Service technicians can easily complete a system reset via remote dial-in.
Monitoring movement data: On request, movement data for the automatic door can be provided to the client in the form of an Excel table.
Security in line with web technology
The new web-based building system WebCare offers a holistic approach to building security and control for door, window and security technology. WebCare enables all product components - even those from other manufacturers – to be networked, monitored easily and controlled safely online.
The advantages of GEZE WebCare at a glance:
intuitive operation -– clearly defined symbols for effective control
simple and clear – all systems can be seen at a glance
individual and safe – individual website with client login
can be accessed from another region or even internationally – centralised control made easy
short response times
centralised control of the systems
faults can be forwarded directly to GEZE Service.
Are you looking for spare parts?
Our modern replacement parts storage facility contains the full range of original replacements parts: for older systems as well. We offer complete advice as well as speedy availability of parts which we can get to you the next day if necessary.
Please contact us via phone +48-224-404-450 or e-mail:
Modification & modernisation
From consultation to installation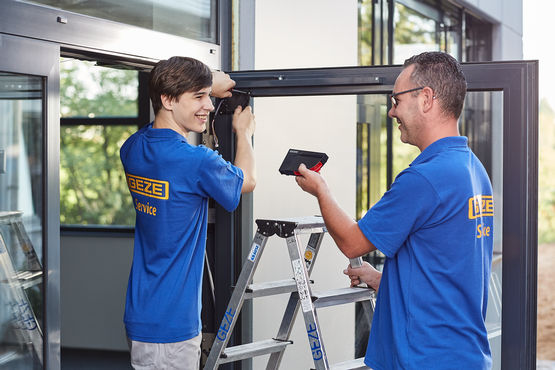 Our expert team supports you when converting outdated equipment. © Karin Fiedler / GEZE GmbH
Generally speaking, the expected lifetime and useful life of building technology has always been shorter than that of the building itself. But new standards and legislation are changing expectations, especially with regard to building safety.
GEZE supports you in modifying outdated equipment to improve the utility and safety of your systems. Modernisations bring the products up to the latest technical standards. In addition, key functional parts can be retrofitted to improve operating properties. GEZE offers forward-thinking product solutions and long-term expertise.
Online service contract: Safe and convenient commissioning!
With our GEZE online service contract, we offer you the opportunity to access many our services safely and conveniently online